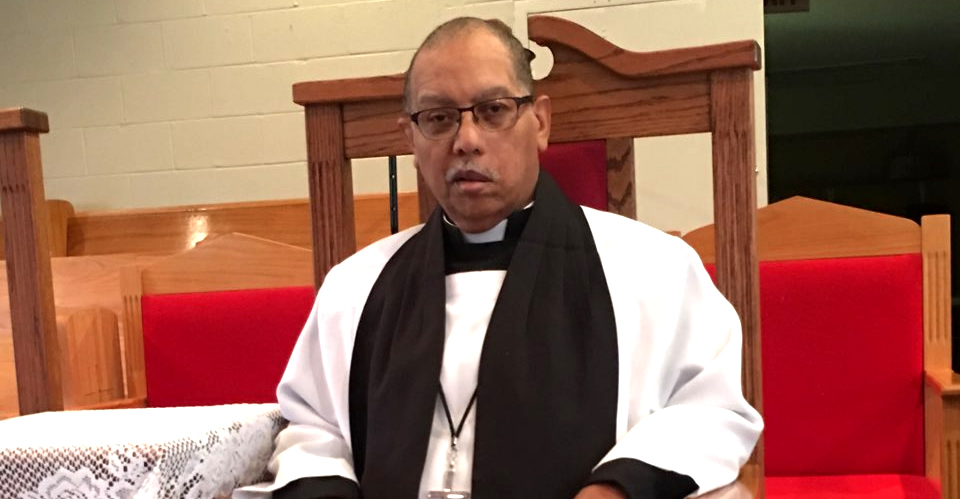 SENIOR PASTOR (2019 to PRESENT)
Elder John Dixon was born in St. Louis, Missouri to the late Elder Will J. and Doris P. Dixon. He gave his life to Christ at an early age and following graduation from high school, he attended St. Johns Hospital School of Nursing in Springfield, Missouri where he completed his studies and became licensed as a Registered Nurse. In 1973, he married Miss Arlene Solomon, the eldest daughter of Pastor Eddie L. and Mother Lula M. Solomon of Buffalo, New York.
In 1975, he joined the US Navy and he and Arlene embarked on a 30-year career that took them to multiple duty stations from coast to coast and over 10 years in Japan, Korea, and the Philippines. At each of these duty stations, Elder Dixon always found work to do in the local church and served the pastor and congregation as Sunday School teacher, YPWW teacher, District Sunday School Superintendent, Interim Pastor, and Jurisdictional Secretary among many other roles.
He was ordained under the late Bishop J.A. Blake Sr in 1976 in Los Angeles, California. Completing several formal and informal Bible Studies at Sacramento Theological Seminary and Azusa Pacific University in Christian Education, he applied himself in ministry under Bishop Levi Willis Sr and Bishop G. Wesley Hardy Sr. at the Cathedral of Faith Church and School of Ministry in Chesapeake, VA.
Retiring from the Navy in 2005 at the rank of Captain, he and his wife moved back to the Memphis area and rejoined his former church, Harris Chapel COGIC. Assisting Pastor Jimmie Harris in the local ministry, serving as Chairman of the Ministers Alliance, YPWW teacher, and working with the current project for building a new sanctuary, he yet finds time to work in the community with the American Red Cross, , multiple Veterans organizations, and the Tennessee Nurses Association. .
On 26 October 2018 he was appointed Pastor of Harris Chapel COGIC by Jurisdictional Prelate, Bishop Brandon B. Porter and an official installation service was held on 12 January 2019 in Jackson, TN. Strongly believing that God is not finished with him yet, he continues to teach and preach the gospel across the U.S. whenever and wherever the opportunity presents
---
Jimmie Harris, Jr.
6979 Sledge Rd.
Millington, TN 38053
Home Phone: (901) 872-0090
Fax Phone: (901) 872-0973
Ministerial and Work Experience
Pastor of Harris Chapel Church of God in Christ, Millington, TN, 1974-2018

Associate Pastor of Harris Chapel Church of God in Christ, 1961-1974

Chromasco Smelting Co., 1959-1981, Heavy Equipment Operator. Chromasco Smelting Co. closed in 1981

Chief Contractor for Harris Chapel, Full-Time, 1981-1984. Completed construction of church sanctuary along with members of Harris Chapel in 1984.

Coors Brewing Co., 1984-1997, Fork lift Operator. Permanent lay off in 1997.
Additional Church Leadership
Ordained Elder since 1961
President of the Young People Willing Workers (YPWW) in the Tucker Temple District of the Church of God in Christ, Inc., 1971-1981
Member of the Central Tennessee Jurisdiction State Ordination Board, 1981-2010
Treasurer of the New Millington District of the Tennessee Jurisdiction, 1981-2010
Community Service and Awards
Lifetime Member of the National Association of Colored People (NAACP)
Received Special Recognition and Proclamation of Service to the Community from Millington Mayor Richard Hodges, August 2009
Provided shelter to and work for homeless patrons through the Salvation Army, 2006-2008
Received a Proclamation of Service to the Community from Congressman Harold Ford, January 29, 1989
Member of the Neighborhood Christian Center Ministries, 1980-present
Member of the Board of Trustees for AWAKE, a tutorial service in reading and mathematics for the Millington community, 1985-1989